Launching a porta-potty company can be financially rewarding if you have an excellent grasp of the fundamentals: obtaining premier equipment, providing steadfast service and cultivating a solid customer base. Moreover, it provides convenience – without any need for office space or extravagant overhead costs.
If you're new to business or seeking to expand your current operations, this guidebook will show you how lucrative a porta-potty enterprise can be and answer all of your questions about the process. Start earning money with your very own mobile sanitation venture today!
Factors that Influence Porta Potty Business Profits
Portable restroom industry operators can drastically increase their earning potential based on several key factors, such as the size of their service area and customer base, the quality customer service they provide, the number of units available for rent, and the level of competition in the market.
Whether you own or rent your equipment, hire employees or independent contractors for labor, or offer additional amenities like hand sanitizer and lights, the sky is the limit when it comes to earning a profit from an up-and-coming porta-potty business. With just one more service such as extra urinals included in your repertoire of offerings, there's no stopping how much potential profits you can make!
Be wise with your decisions and you could reap the financial rewards of an incredibly lucrative porta-potty business. With the right moves, a successful venture can provide flexibility as well as potential for long-term growth.
You can capitalize on this burgeoning industry without spending excessively in costly infrastructure or office space. Now is the time to launch your venture and discover how profitable a porta-potty business can be!
Knowing the fundamentals of launching a porta-potty business, studying your local markets and using top-notch customer service are all essential components for success. If you're willing to put in time and effort, your portfolio of potty services can be an incredibly profitable venture that will generate reliable income!
Curious how other portable restroom operators are doing business?

Download our benchmark report which reveals what the top PROs are doing to drive profit margins up and keep business steady. Click the link to download our benchmark report!
Porta Potty Owner Salary Range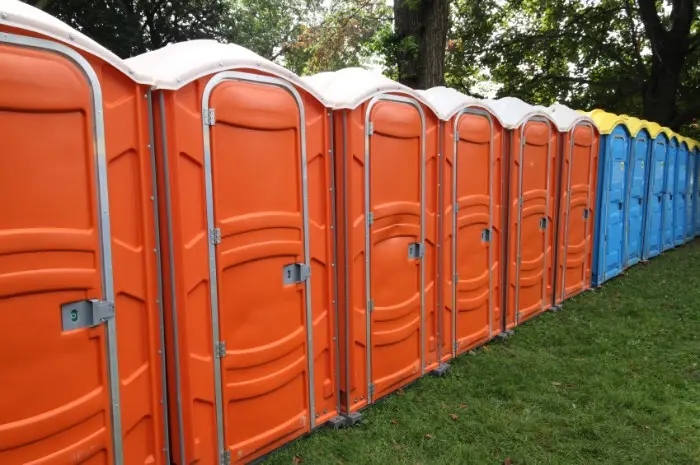 Renting portable toilets has the potential to earn you between $50,000 and $100,000 annually. However, this number may vary based on your individual situation.
Establishing and managing a successful business is key to its profitability. Whether you're an industry novice or seeking new ways to expand, introducing porta potty services will not only provide customers with quality service but also generate a reliable income stream for your company.
With a well-planned strategy, you can maximize your porta-potty business's profitability! While the amount of earnings you make in America is dependent upon economic conditions and local regulations, it could be even more rewarding if you venture into other countries. So don't hesitate to dream big and get ready for success – with dedication, who knows how far your profits will go?
Wealth is within reach for those in the porta-potty industry, however, it requires an understanding of how things operate and taking advantage of any potential openings.
To make your porta-potty business as successful as can be, devise a plan of action, prioritize customer satisfaction, and ensure that you have the right tools to get the job done!
Create a lucrative career in the porta-potty business! Learn how much money you can make and start your journey today. See just how profitable this industry is when run correctly!
Need a Software Solution for Your Portable Restroom Business?

Learn more about what software can do to automate and streamline your business operations. ServiceCore's application helps PROs with inventory management, billing, and route optimization among many other things. Click the link to learn more!
Industries portable restroom operators serve and which ones are most profitable:
The portable toilet industry serves a wealth of events and establishments, including construction sites, weddings, concerts, etc. Those that are the most lucrative tend to require extended long-term service for large restrooms; think construction zones with massive landscaping projects or major festivals requiring lots of guests. Hotels and resorts can also benefit from such agreements as well!
To be successful in the portable toilet rental business, it is imperative to gain an intimate understanding of local ordinances and regulations regarding placement. Furthermore, having a sound knowledge base of industrial trends and practices will ensure success in this line of work.
Ready to make your porta-potty business as lucrative as possible? With the right strategy and dedication, you can turn this venture into a money-making machine. Just how much income potential is there in this industry? Well, it all depends on how you choose to run and grow your enterprise – why not start today and find out what kind of profits are within reach? Not only could a porta-potty business provide steady income streams with long-term growth opportunities, but it also boasts flexible hours with low overhead costs. If you're seeking an investment that promises these benefits plus more – look no further than getting involved in portable sanitation solutions today!
Constructing new buildings and sites, large-scale landscaping projects, long-term rentals to hotels/resorts, as well as major events like concerts and festivals are some of the most lucrative industries for business success.
With the proper understanding of starting a porta-potty business, diligent market research, and compliance with regulations, as well as offering exemplary customer service and maintenance practices–you are equipped to make your enterprise extensively profitable for years down the line! Through commitment and strategic thinking, you can build a prosperous venture that yields reliable revenue.
Start a Portable Toilet Business by following these ten steps:
1. Investigate the portable toilet rental industry
2. Draft a business plan
3. Acquire necessary licenses and permits
4. Buy or lease porta-potties (and other equipment)
5. Locate an area to store your units
6. Establish an online presence for yourself
7. Design a customer acquisition strategy
8 . Search out suppliers of related products and services
9 . Employ personnel and coach them
10 . Introduce a quality assurance program
With the correct understanding of how to establish a porta-potty business, smart research on local markets, adherence to all legal regulations and ordinances, as well as providing exceptional customer service and maintenance practices, you can make your porta-potty business an incredibly lucrative endeavor. You just need a knowledge base combined with determination and strategic planning – which will eventually lead you toward creating a successful enterprise that promises ongoing financial rewards for years!
Is a Portable Restroom Business Profitable: Top 10 Reasons
The following are the Top Reasons Owning a Porta-Potty business is profitable:
Low overhead costs:
With no need for office space or expensive equipment, the overall operating cost of the business is relatively low.
Flexible hours:
The owner can set their hours and work as little or as much as they want.
Steady customer base:
A successful porta-potty business has a loyal customer base that provides consistent revenue.
Financial stability:
With the right strategy, a porta-potty business can provide stability and long-term growth potential for its owner.
Starting a porta-potty business is a great way to make money with minimal overhead costs. With the right knowledge, commitment, and strategic thinking, a porta-potty business can provide steady income and long-term growth potential.
If you're looking for a profitable business venture with flexible hours and low overhead, a porta-potty business may be the perfect fit! Get started today and find out just how lucrative this industry can be!
FAQs
How much do porta-potty business owners make?
Porta-potty business owners have access to a world of potential when it comes to profit, as the size and scope of their operations largely dictate how much money they can make. On average, those fortunate enough to own big porta-potty businesses tend to generate more income than smaller ones. As far as earnings are concerned, running a porta-potty business is quite rewarding; owners generally earn anywhere between $30K – $100K each year!
What factors influence the potential earning power of porta-potty operators?
The earning capacity of porta-potty business owners is heavily dependent on several components, such as the expanse and magnitude of their businesses, customer base, area where it's located in comparison to competitors in the vicinity. Moreover, smart entrepreneurs can utilize marketing efforts or campaigns to entice clients and increase revenue.
What industries do porta-potty operators serve? And of those, which of them is the most profitable?
Porta-potty operators can discover a wide array of moneymaking opportunities in the construction, outdoor events, sports venues and public parks industries. Companies that demand more porta-potties such as construction businesses or big festivals are particularly profitable for these operators. Furthermore, entrepreneurs with multiple locations have an excellent opportunity to increase profits through franchise agreements.
How Much Do Porta Potty Companies Make?
Establishing a portable toilet business can be particularly lucrative for many reasons. From their practicality and convenience, the demand for porta potties is ever-present — offering an abundance of opportunities to charge customers rental or service fees. Additionally, when purchasing in bulk quantities, owners often gain access to discounted rates that maximize profit margins even further.
Should you purchase an existing porta-potty business or start one yourself?
Whether one should purchase an existing portable toilet business or begin a new one is highly dependent on individual circumstances. Those already acquainted with the field may better profit from acquiring and building off of an existent venture, while those just starting out in this arena might reap greater rewards by creating something entirely their own. When settling on which option to select, it's essential to consider all of its pros and cons before making a final decision.
Conclusion
Establishing a portable toilet business can be an effective and lucrative way to create a steady income with many advantages. You have the freedom to adjust your rates, control who you do business with, avoid space or overhead costs, and offer additional services -all while having complete involvement in each stage of the process! There are a few disadvantages that come along with starting this type of venture.
Investing in a porta-potty business is an optimal solution for anyone who wants to make money with flexibility and profitability. Nevertheless, the outcome of your success will depend on how you approach this venture: research, hustle and strategy are paramount! With these elements in place, commercial entrepreneurs can look forward to reaping significant rewards from their labor. So if you're ready to take control and build your future potential through entrepreneurship — investing in a portable toilet business could be exactly what's needed for long-term financial stability.
Want to Make Your Portable Restroom Business More Profitable?

Work with ServiceCore to increase your business's productivity, automating many tasks that are costing your team valuable time and money. Click the link below to chat with one of our team members!

Schedule Consultation